What is a PEO?
A PEO provides integrated services to effectively manage critical human resource responsibilities and employer risks for small and medium sized businesses including:
Benefits
Payroll
HR Administration
Tax Administration
Workers Compensation
Liability Coverage
Compliance
Technology
The PEO relationship involves a sharing of employer responsibilities between the PEO and the client that ultimately allows the employer to access fortune-500 benefits at affordable rates, maintain compliance, and alleviate the burden of HR administration so they can focus solely on business growth. 
Top Reasons Small Groups Choose a PEO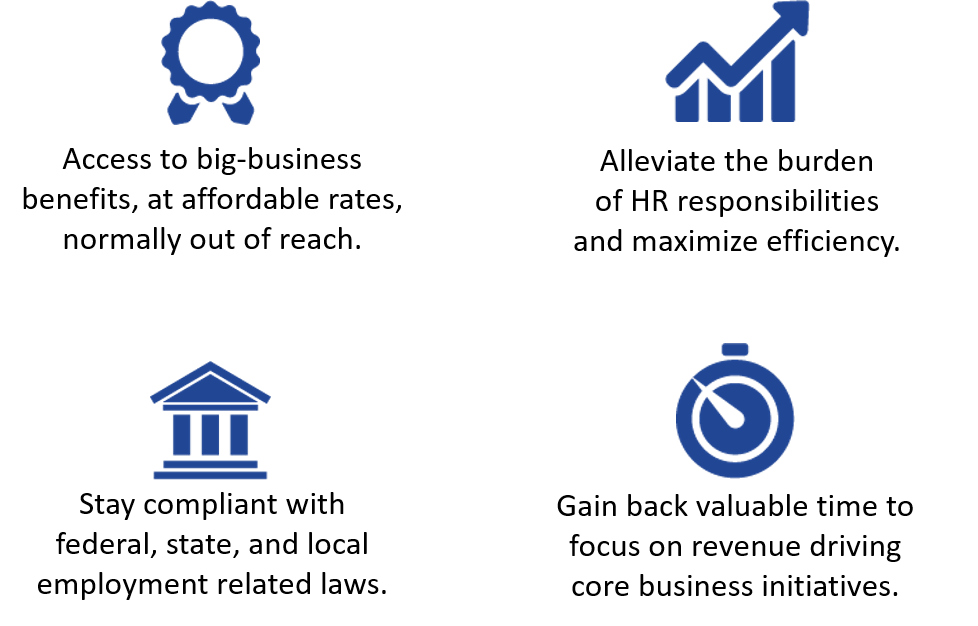 PGP Preferred PEO Partners
ADP Total Source (Empire and Oxford Medical)

CoAdvantage (Aetna Medical)

DecisionHR (Anthem Medical)

Emplova (Cigna Medical)

Engage (Aetna Medical)

ExtensisHR

(Empire and Aetna)

HROi (Aetna Medical)

JustWorks (Aetna Medical)

Prestige (Oxford and Emblem Medical)

PayChex/Oasis (Aetna Medical)

Rippling (Aetna Medical)

TriNet (Aetna, Anthem, and Empire Medical)

Vensure (Aetna and Empire Medical)
Why a PEO? 
Businesses today need help managing increasingly complex employee related matters, including employee relations, ACA guidance/compliance, health benefits, workers' compensation claims, payroll, payroll tax compliance, and unemployment insurance claims. They contract with a PEO to assume these responsibilities and provide expertise in human resources management. This allows the PEO client to concentrate on the operational and revenue-producing side of its operations.
By providing payroll, benefits, and HR services and assisting with compliance issues under state and federal law, PEOs allow small businesses to improve productivity and profitability, to focus on their core mission, and to grow.
Through a PEO's bulk purchasing power, the employees of small businesses gain access to big-business employee benefits such as: 401(k) plans; health, dental, life, and other insurance; dependent care; and other benefits they might not typically receive as employees of a small company.